You are currently viewing an archived page, nothing here is for sale.
BladeHQ.com
has purchased this website and is working on a new design.
In the meantime, please feel free to browse the
Custom Knives
section at www.bladehq.com.
(A.T. Barr's new website can be found at
www.custom-knives.com
).
Below are the folding knife designs we are currently offering. All of our folder models are made as they are ordered. However, every once in a while we may have a standard model ready for immediate delivery. Please contact us for availability. Standard specifications are listed with each model.
Every folding knife design that we make is designed using CAD (Computer Aided Design) programs. However, Each folder is made completely by hand. We do not use laser cut parts or CNC machines.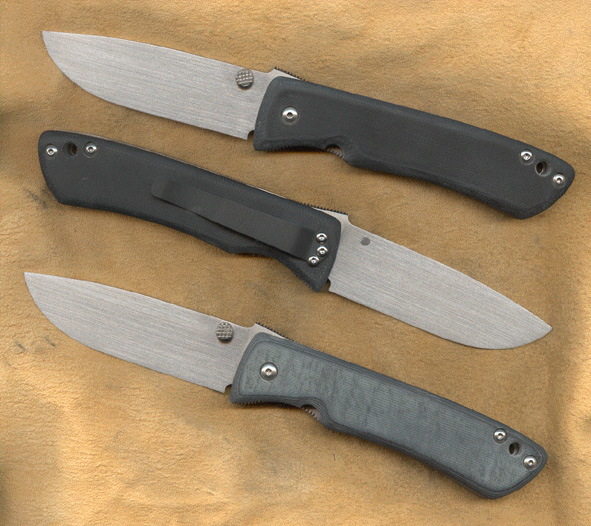 JK-26 Drop point liner lock folder
Blade length - 3-3/8"
Overall length - 7-7/8"
Steel - 1/8" ATS-34
Scales - G-10
Finish - Hand rubbed satin
Dual .060 Titanium liners w/ brushed finish
Stainless pocket clip for tip down carry
Price - $275 + shipping

Scorpion liner lock folder (small version)
Blade length - 3-3/8"
Overall length - 7-5/8"
Steel - 1/8" ATS-34
Finish - hand rubbed
Handle scales - black G-10 with milled grooves
Fasteners - stainless button head screws
Liners - dual .060 Ti w/ textured finish
Ambidextrous thumb openers
Thumb opener acts as the stop in the open position
A hardened stop pin acts as the stop in the closed position
Stainless pocket clip for tip down carry
Price - $325 + shipping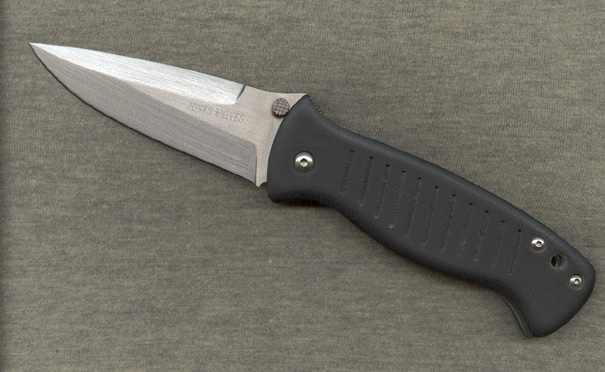 This knife won the Best Fighter award at the 2001 SouthEastern Custom Knife Show
Scorpion liner lock folder - Large version
Blade length - 3-7/8"
Overall length - 8-7/8"
Steel - 5/32" ATS-34
Price - $375 + shipping
All other details are the same as the smaller version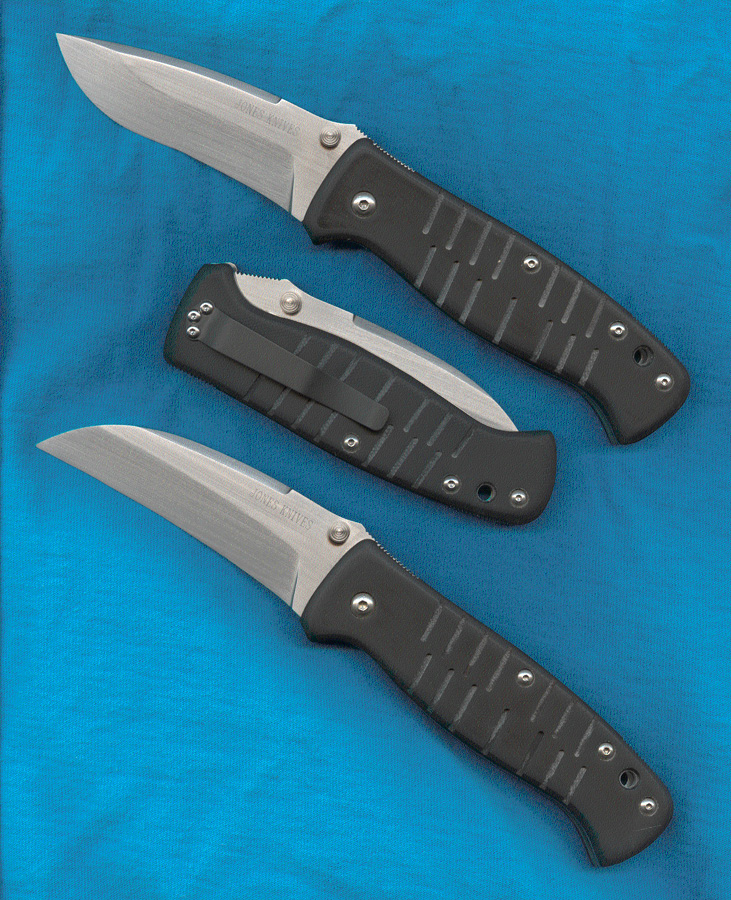 Tigershark linerlock folder
Recurve or Hawkbill blade
Blade length - 3-5/8"
Overall length (open) - 8-5/8"
Overall length (closed) - 5"
Steel - 5/32" BG-42
Scales - black G-10 w/ tigerstripe grooves
Liners - dual .060 6Al4v Titanium w/ brushed finish
Fasteners – stainless button head screws
Stainless spacers - open back on frame
Ambidextrous thumb openers
Stainless pocket clip - tip down carry
Price - $375 + shipping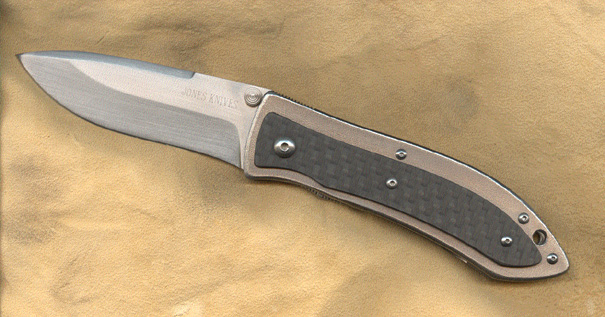 Mongoose frame lock folder
Blade length - 3-1/2"
Overall length - 8-3/8"
Steel - 1/8" ATS-34
Blade finish - hand rubbed
Frame - .090 6Al4V Titanium
Frame finish - textured (satin)
Overlays - carbon fiber (shown) - others available
Fasteners - stainless button head screws
Ambidextrous thumb opener acts as stop in both open and closed positions
Stainless pocket clip for tip up carry
Price - $425 + shipping

Jones Knives
Barry and Phillip Jones
221 North Avenue
Danville, Virginia 24540
United States
Phone: (434)793-5282
Best viewed with


If you would like your own personal website, with your name (http://www.customknives.com/your.name
for less than $100.00 a year, please check out http://www.customknives.com/webdesign