You are currently viewing an archived page, nothing here is for sale.
BladeHQ.com
has purchased this website and is working on a new design.
In the meantime, please feel free to browse the
Custom Knives
section at www.bladehq.com.
(A.T. Barr's new website can be found at
www.custom-knives.com
).
These are the fixed-blade knives we are currently offering. We try to keep standard versions of our fixed-blades in stock. However, there may be times when we do not have any in stock. Please contact us for availability. Standard specifications are listed with each model.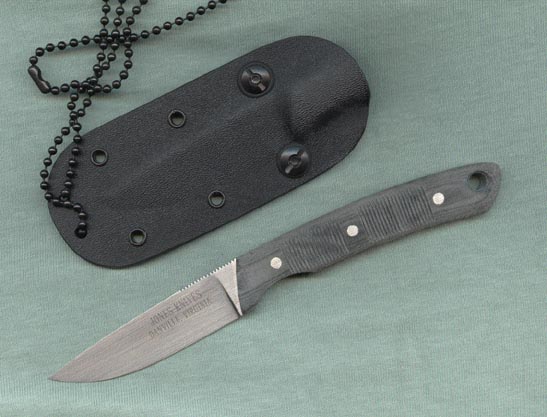 JK-29 Neck knife
Blade length - 3"
Overall length - 7"
Steel - 1/8" ATS-34
Handle scales - Black linen Micarta with checkering
Finish - Hand rubbed satin
Comes with Kydex neck carry sheath (shown)
Price - $125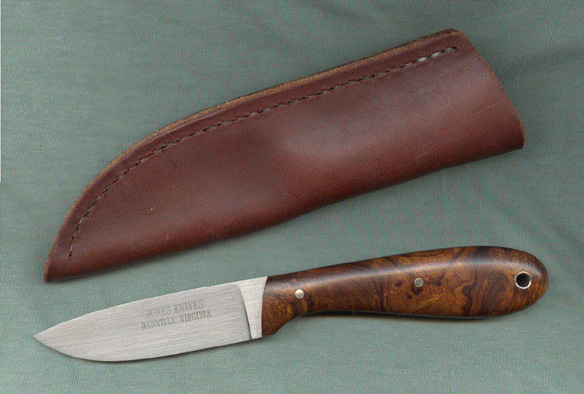 JK-31 Hunter
Blade length - 3-1/4"
Overall length - 7-3/8"
Steel - 1/8" ATS-34
Handle scales - Various hardwoods, Micarta, or Stag (depending on availability)
Shown with Desert Ironwood scales
Finish - Hand rubbed satin
Comes with hand-stitched leather sheath
Price - $150 and up depending on handle material

JK-35 Hunter
Blade length - 2-1/2"
Overall length - 6-5/8"
Steel - 1/8" ATS-34
Handle scales - Stag (depending on availability) or various hardwoods
Bolsters – 416 stainless
Finish - Hand rubbed satin
Comes with hand stitched leather sheath
Price - $200 and up depending on materials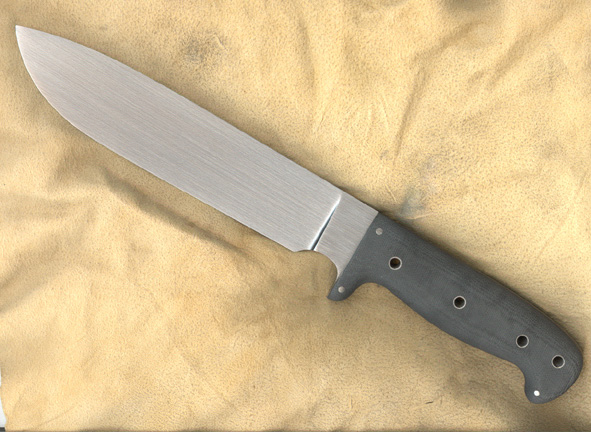 JK-23 – Combat/Survival knife
Blade length - 7" - 8"& 9" blade lengths are also available
Overall length - 12"
Steel - 3/16" D2
Finish - Hand rubbed satin
Handle scales – Black linen Micarta
Sheath - Kydex belt sheath with accessory pocket
Price - $300 (7" blade) - $325 (8" blade) - $350 (9" blade) + shipping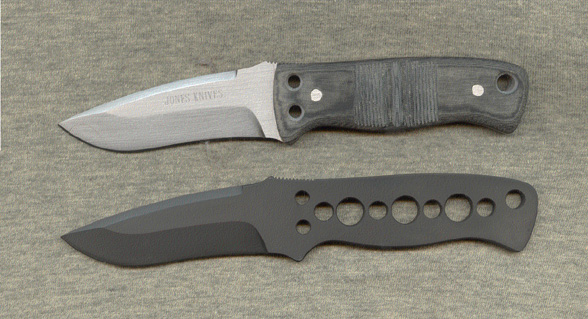 Tigershark neck knife
Blade length - 3-1/8"
Overall length - 6-5/8"
Steel - 1/8" D2
Finish - Hand rubbed satin
Handle scales - black linen micarta with checkering
Sheath - Kydex neck carry system by Edge Guard
Price - $150 + shipping

Scorpion fixed blade fighter
Blade length - 3-1/2"
Overall length - 7-9/16"
Steel - 5/32" ATS-34
Handle scales - Black linen Micarta w/ checkering - removable
Sheath - Multi-positional Kydex
Price - $200 + shipping
$225 for Boron Carbide coating

Jones Knives
Barry and Phillip Jones
221 North Avenue
Danville, Virginia 24540
United States
Phone: (434)793-5282
Best viewed with


If you would like your own personal website, with your name (http://www.customknives.com/your.name
for less than $100.00 a year, please check out http://www.customknives.com/webdesign